Resina de poliamida HY -508
Resina de poliamida HY -508
| | |
| --- | --- |
| Tipo de Pago: | L/C, T/T |
| Cantidad de pedido mínima: | 1 |
| Plazo de entrega: | 1 días |

| | |
| --- | --- |
| productividad: | 1000mt/Month |
| Lugar de origen: | Anqing, Anhui, China |
| Capacidad de suministro: | 1000mt/Month |
Descripción del producto
HY -508 Característica: Resina termoplástica Color: Amarillo claro Valor ácido (Mgkoh / G): 5 (máximo) Viscosidad (Mpa. S / 25): 80-180 Propiedad: Buenos Alcoholes Solubilidad Puerto: Cualquier puerto en China Origen: Anqing, Anhui, China Resina sintética: Resina de poliamida Cadena principal molecular: Polímero de la cadena del carbón Término del pago: T / TL / C Amine Valor (Mgkoh / G): 5 (máximo) Punto de reblandecimiento (° C): 107-117 Congelación Punto (° C): -4 ~ 4 Marca: HongTai Resina de poliamida HY-508
Item

Unit

Index

Test method

Acid Value

mgKOH/g

≤5

Titrimetry

Amine value

mgKOH/g

≤

5

Titrimetry

Softening Point

ºC

120±5

Ring-ball

Viscosity

mPa

·

s/25ºC

90-1

5

0

Rotary viscosimetry

mixing proportion:40%resin,60%solvent




(IPA: Butanol:

 alcohol 1:1:1

)

Color

Size

≤7

Fe-Co colorimetry

Freezing point

ºC

≤7

Freezing point instrument
LAS VENTAJAS DE NUESTRA FÁBRICA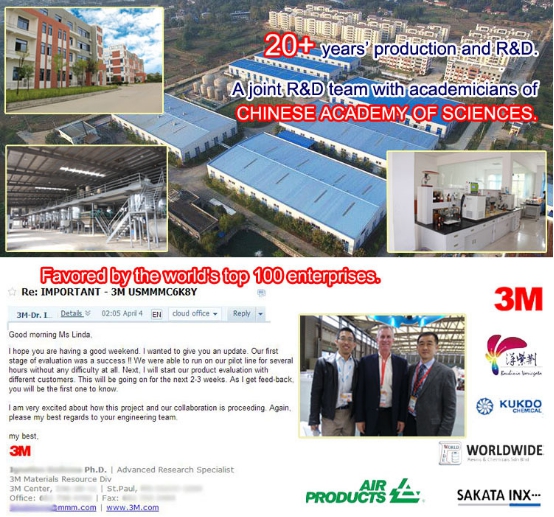 APLICACIÓN Y VENTAJAS DE LA RESINA DE POLIAMIDA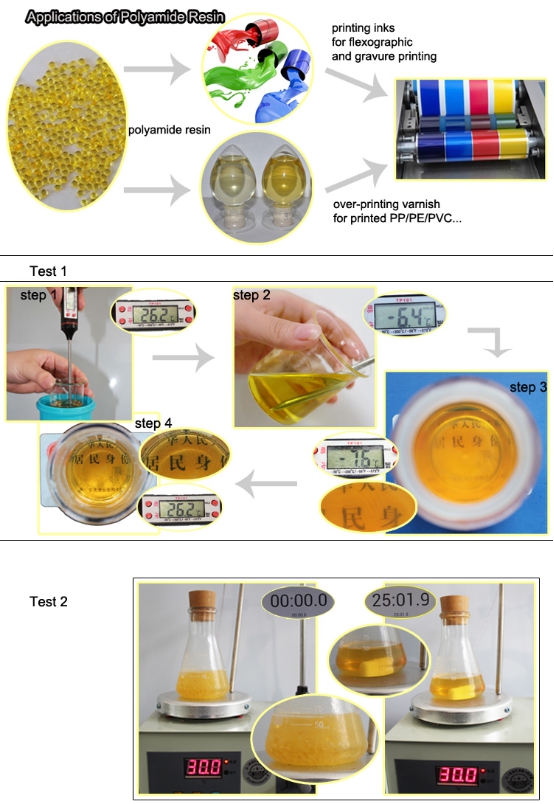 Test 
1. Excellent freezing resistance
Our polyamide resin is characterized by excellent resistance and high transparency , it can
be well suitable for using in winter and the countries or areas with very low temperature. 
Kindly view the above picture of the freezing resistance test:
step 1
. the polyamide resins are totally dissolved at 26 degree celsius, the test begins. 
(P.S.: Mixing proportion is 40% resin+60% solvent (Xylene:IPA:Ethanol=4:3:3) )
step 2
. the liquid is still flowing at -6 degree celsius.
step 3
.
the liquid becomes to get gelling at -7.6 degree celsius, but the transparency of the 
liquid is quite good.
step 4
.
the gelling liquid was heated back to 26 degree celsius, the transparency is still 
excellent.
Conclusion:
 1. Our polyamide resin has a excellent resistance, if not, the resin solution will be easy to 
gel when the weather is cold. 
 2. Even if the resin solution gels, it will be still workable of the solution after heating and 
deflocculation. 
 3. Our polyamide resin has a high transparency, it ensures the pure colors of printing inks.
Test 
2. Good dissolubility
Our polyamide resin is also characterized by good solubility. Please view the picture of 
dissolubility test:
It takes about 25mins to dissolve the resin with magnetic stirring at 30 degree celsius. 
P.S.: Mixing proportion is  40% resin+60% solvent (Xylene:IPA:Ethanol=4:3:3)
EMBALAJE Y CALIDAD DEL PRODUCTO, SISTEMA DE CERTIFICACIÓN DE GESTIÓN DE LA PRODUCCIÓN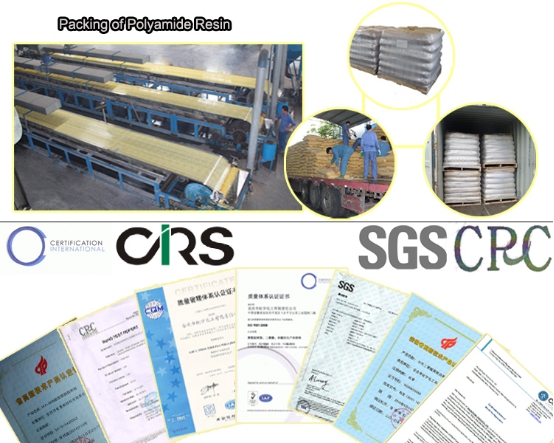 Steady--

Steady products and clients group thanks to 20

+

 years' production experience

,




advanced equipments and mature test methods.

Safe--

Standardized production process, fully automatic and scientific operation




 guarantee production safety.

Environment-friendly--

The first enterprise achieved cleaner production built sustainable green




 chemicals.

Customizable--

 Recommending proper products to customers based on the lastest market




 dynamics.

High-efficiency--

Energy saving and consumption reducing, sincerely reward customers by




 high yield rate.

Considerate--

Respond customers timely, sound after-sales service system.

Striving for perfection--

A 20

+

 years' striving for perfection team makes us at top rank.
FAQ
Q: 
What is your test instrument for viscosity? 
A: NDJ-79 made in China. The viscosity tested by NDJ-79 is smaller than tested by 
BROOKFIELD made in America under the same conditions.
Q: 
How long does the polyamide resins totally dissolve in the solvent?
A: Usually, it takes about 30 mins in 50% polyamide resin and 50% anhydrous alcohol solvent under magnetic 
stirring at 40ºC. It depends on the temperature and percentage of polyamide resin.
Q: 
Which one dried more quickly among co-solvent and alcohol-soluble polyamide resin?
A: Co-solvent polyamide resin.
Q: 
What is the formula weight?
A: About 10,000.
Q:
 Can you produce according to Air or Sunmide standard? 
A: Yes. 
Grupos de Producto : Polímero y resina